We wrote an article a few months ago about the research program on the effects of Math Mathews Fractions on learning. Marie-Line Gardes, researcher at the ISC (Cognitive Science Institute) is giving us some fresh news on her research!
Experiments have been conducted in 6 classrooms of grade 4 and 5 in the city of Lyon in France, from December 2018 to February 2019 in order to check our hypothesis.
Indeed, Math Mathews Fractions has been developed in order to help children learning fractions: various fraction representations are worked on, different types of tasks are repeated with direct feedback and each student can work at his own pace.
The game is also a relevant support for the teacher, thanks to a progressive learning curve throughout the 12 levels and to the possibility to provide children with personal support by the use of specific mini-games.
We set up the following experimental protocol: a learning sequence on fractions driven in classroom by teachers, mixed with pre and post tests. The sequence is divided into 14 sessions as follows:
5 learning sessions
1 reinvestment session
5 learning sessions
3 reinvestment sessions
The learning sessions have been created from a specialised book and every teacher has proposed same situations in classrooms.
However, we have divided the reinvestment sessions into two groups for comparison: a 3 classrooms experimental group using the game during sessions, and a 3 classrooms control group using only standards paper-based exercises.
Those sessions have been observed by researchers.
Children's abilities have been assessed by pre-tests and post-tests consisting of:
a survey to assess children anxiety towards mathematics
a calculation fluence test
a test assessing children's knowledge of fractions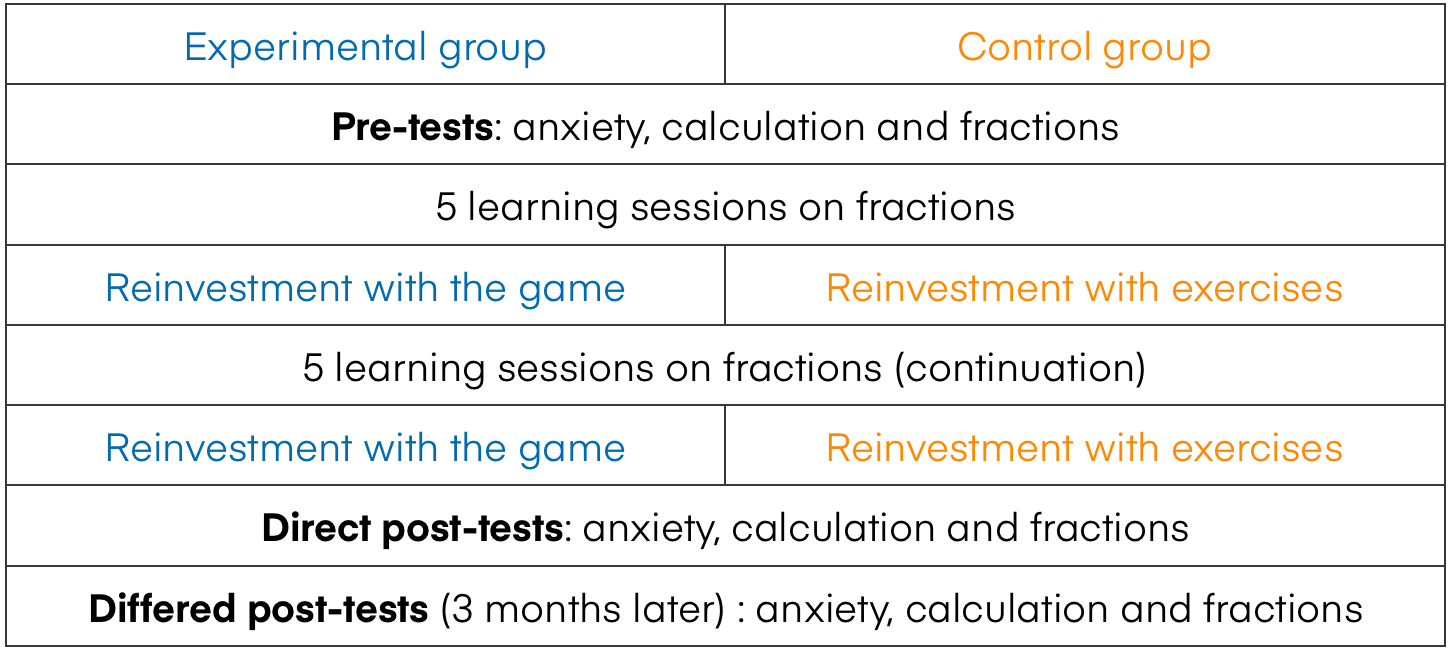 The learning sequence is now completed and we gathered the direct pre and post tests data. We will analyse the differed post-tests in 3 months. First results should be known by this summer.
From what we observed, we can already tell that children were very happy to play the game, they were very involved. The question now is whether this has been beneficial to learn fractions!